With the publication of Melusine's Footprint: Tracing the Legacy of a Medieval Myth (hurray and huzzah! she's here!) and the acceptance of a paper for the book at the Illinois Medieval Association meeting in February 2018, I'm feeling more like an independent scholar again. It's good to feel like a scholar at all again—I've missed it.
Independent scholars are what we call ourselves when we research, publish, and conference for fun rather than under the aegis of a college or university. I admit that, as a graduate student depending on the prospect of getting a tenure-track job somewhere, I worried that the "independent scholar" label was less legit than a university affiliation. If you loved the work and were good at it, why wouldn't someone hire you and pay you to work? I admit I was both naive and a snob—a naive snob.
After 2008 and the Great Recession, the shrinking of the American university and the enormous competition for academic jobs of any sort, not just tenure-track, the title "independent scholar" seems to have lost that misfit odor. Like self-publishing your book, there are ways to do it professionally and right, not only keeping the same standards as the gatekeepers but in some cases filling a need that the traditional venues don't fill.
For instance, while medievalism has in the past few years been a very hot topic of study, and investigating the modern (re)appropriation of medieval culture in everything from film and TV to white supremacist blogs is more timely still, I get to do things like examine modern re-inventions of Melusine and feel like my research fits right in. From Maleficent to the Starbucks siren, to the novels of Philippa Gregory and the villainesses of the graphic arts, Melusine is snaking her mermaid-tail and snaky wings more and more prominently into the cultural imagination.
I have an academic affiliation again, and am grateful for it; I get to hone and refine my teaching skills on a new batch of students each semester, and in the spring, my work at the Success Center at Muscatine Community College will keep me engaged and learning. But, like the part of me that is a novelist and short-story writer and now an essayist as well, I still feel like my scholarship, research and publication, is independent of what MCC needs of me. I do it for fun, because I have questions I want to answer, ideas I want to propose, ways of reading I want to suggest to other people.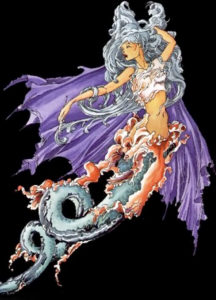 I've always straddled a strange line, from graduate school through my wonderful, much-loved gig as assistant professor of English at Lewis-Clark State College: I'm a creative writer and a scholar, a researcher and a writer. And a teacher, too; that's three parts of the brain I have to be using, three areas I need to be skilled in. Then there's the editing I've been doing since grad school as a kind of side gig and, at the same time, an extension of one of my favorite aspects of teaching: using what I know as a writer to help other people write well. So there's a fourth part, or perhaps an overlap. There must be some way my identities work all together, and one day I'll sit down and draw that map. It might help me better manage my time.
I'll need it, because aside from the practical drawback that independent scholarship doesn't pay the way an academic salary does, the other drawback to straddling disciplines is the to-do list. Here's a glance at mine for the holiday break, now that grades are filed and work at the Writing Center is wrapped up:
Write the conference paper
Review the books (currently, I have 3 to finish, for 3 different places)
Edit the manuscript I've been contracted to do
Research for the novel I'm writing (1792 England)
Keep querying and sending out the novel I finished (with my mathematical heroine, Thomasine; astonishingly, no one has yet jumped at the chance to publish that book, so I'm still shopping her with high hopes)
Put together a proposal for the third collection of short stories
Submit the various stories that haven't found a home yet. Consider writing more
Write the novella I said I'd write
Join the societies I told myself I'd join
Redo the author website (way overdue)
And, at some point, I need to organize this chaotic office. If messiness is a sign of genius, I'm all set.
That's my holiday break, and I can't wait to tackle this list. It's all part of the work I love and am so grateful that I get to do. Hope your holiday break is just as full of all your favorite things.
The life of the independent scholar